Defence Minister Nirmala Sitharaman is also among panellists at the session to be moderated by John Chambers, Chairman Emeritus, Cisco.
This is the first time that the GES is being hosted in South Asia.
The Global Entrepreneurship Summit-2017 will be inaugurated by Prime Minster Narendra Modi.
The NITI Aayog has taken the lead in organising the event.
Participants at this year's summit will represent four industry sectors - energy and infrastructure, health care and life sciences, financial technology and digital economy, and media and entertainment.
He said that the GES was especially significant for India because the Centre was giving entrepreneurs the opportunity and the ecosystem to thrive. The theme for the mega event will be "Women First, Prosperity for All" and on supporting women entrepreneurs and fostering economic growth globally.
Newly crowned Miss World Manushi Chhillar, actress Sonam Kapoor and Aditi Rao Hydari, tennis star Sania Mirza and captain of Indian women's cricket team Mithali Raj will add glamour to the event.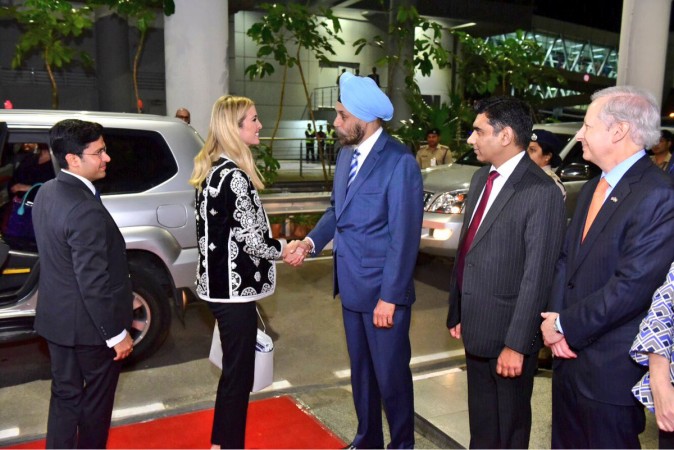 United States President Donald Trump's daughter and advisor Ivanka Trump arrived
Over 100 innovative startups, products, services and processes will be exhibited through a multi-touch interactive wall, sensor-enabled touch screens, rotoscope mural technology, and physical displays. PM Modi will be hosting a dinner for the US President's daughter at Hyderabad's Falaknuma Palace. India was given the opportunity to host GES during Modi's USA visit in June.
"Partners also enhance the overall experience at the Summit, including through the creation of networking lounges and a Global Launch Lounge to encourage new commitments toward global entrepreneurship", the State Department said.
NITI Aayog CEO Amitabh Kant & US Ambassador in India Kenneth Juster at the #GES2017 virtual exhibition.
The choice of Hyderabad to host the event is significant as the city is a major tech hub; home to a large number of USA firms, including giants like Microsoft, Google, Amazon, Apple and Uber, and a robust startup ecosystem.
Besides Faluknama, Donald Trump's eldest daughter's visit might also include a sight-seeing trip to Charminar - a historical site that topped Ms Trump's list of must visit places in India.
Unprecedented security arrangements have been made for the GES with the deployment of over 10,000 policemen. However, various departments under the Centre had hoped that top United States officials accompanying her to the summit would endorse Modi's economic agenda and unwittingly deflate the criticism being hurled at the Prime Minister on this front by his opponents domestically.
Watch this space as YourStory reporters bring you on-ground stories from the summit.
Black Friday Brawl Forces Alabama Mall to Close Early
No arrests were made, but Hoover police say that an undetermined amount of people were detained pending warrants. In Missouri, a gun was sacked at Columbia Mall in Columbia, Missouri, ABC 17 News reported early Friday morning.
He's gone: UCLA fires Jim Mora after third straight loss to USC
The Bruins' statement noted that Mora's contract will be bought out exclusively using department-generated funds. In 2013 and 2014, the Bruins tied a season record with 10 victories, capping each year with a bowl win.
Rahul Gandhi Questions Rafale Deal Again, Hits Back at Nirmala Sitharaman
Congress had earlier accused the government of compromising national interest and security while promoting "crony capitalism" and causing a loss to the public exchequer.
Top Stories
Tennessee starting QB has an unpopular reaction to Greg Schiano reports
Schiano is now Ohio State's defensive coordinator, be he has a relationship with Tennessee athletic director John Currie. He had been out of coaching since 2013, after he was sacked by the Buccaneers following an 11-21 tenure in two seasons.
Pakistani police fire tear gas to break up Islamists' sit-in blocking capital
After banning news channels, the government has also shut down social media websites including FaceBook , YouTube and Twitter . Protesters had been blocking a key road connecting Islamabad and the neighboring city of Rawalpindi since November 8.
UCLA To Appoint Chip Kelly As Head Coach
Kelly finished his time at OR with a 46-7 record as head coach (2009-12), including victories in the Rose Bowl and Fiesta Bowl. Kelly will be formally introduced to the UCLA community and to media on campus Monday afternoon.
One Year Later, Uber Comes Clean On Hack Affecting 57 Million People
Two of the employees responsible for not initially revealing the attack have been fired, Khosrowshahi wrote. The stolen information included the names, email addresses and mobile numbers of Uber customers globally.
Gujarat polls: Patidars accept Congress' quota formula, but will the courts agree?
Meanwhile, PASS also seems heading for a vertical split with a group charging Banmbhaniya of hobnobbing with the BJP and the NCP. Citing various Supreme Court judgements, the BJP leader said it was not possible to exceed the cap set by the apex court.
Criminal shootout in Delhi, four arrested
A major encounter broke out between dreaded criminals and police forces in New Delhi's Dwarka locality on Tuesday. The Punjab Police shared the inputs with their counterparts in Delhi and a joint team surrounded the place.
Arab League affirms solidarity with KSA's security measures
The Arab League held an emergency meeting in Cairo on Sunday and issued a resolution that heavily criticized Iran and Hezbollah. In a statement the party said it "rejects the description of the Lebanese Hezbollah resistance movement as terrorist".
Pakistan off-spinner suspended from bowling again
The assessment in Loughborough revealed that the majority of his deliveries exceeded the 15 degrees level of tolerance in his arm. In the interim will be the PSL where, according to ICC regulations, he can bowl should the PCB choose to allow it.
Foot Locker beats Street 3Q forecasts
As of October 28, 2017, the company operated 3,349 stores in 23 countries in North America, Europe, Australia, and New Zealand. Cubist Systematic Strategies LLC raised its position in shares of Foot Locker by 8.4% in the third quarter.
Rhode Island unemployment rate remains at 4.2 percent
The number of workers unemployed in OH in October was 296,000, down 9,000 from 305,000 in September, according to the state data. Nebraska's unemployment rate was down 0.1 percentage points from September and 0.6 percentage points from October 2016.